Louvres and shutters are one of the best ways to add long-lasting value to your home, whilst surviving extreme weather and traversing the changing trends. Here we explain how the different types function, and how they are constructed.
Read the post on How Solid Timber Louvres and Shutters Add Value to your Home
Decorative Function
Often shutters are for decorative purposes only, such as a small vent on a gable end. A stained timber shutter can make an otherwise plain cable end, into a feature with a Mediterranean look.
With these, it is recommended that the shutter is a stand-alone item that is fixed to the outside of a building this is opposed to having an opening which then needs to be framed and sealed off with flashings etc. An opening will also let heat out of the attic cavity, causing a home to lose heat, and let unwanted creepy crawlies in. If a decorative shutter is selected, these can normally be glued in place, eliminating the need for fixings through the cladding.
Open/Closed Function
As discussed earlier, there are different uses for shutters and hence different shutter types to suit the application.
The thinnest and lightest shutters are the ones used for decoration. These normally have a 28mm wide closed blade and a frame at 19mm thick.
This blade is the most economical to make and will last longer than a 28mm open blade, especially when exposed to weather. The closed blade design still ensures the shutter looks like it is made up of the individual blades.
If a shutter is used for exterior ventilation, normally a larger 42 x 10mm blade is used.
This is more resistant to splitting and warping than the 25mm blades. The frame is also normally thicker (35mm) for extra stability.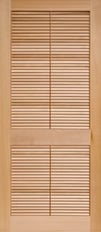 Louvres doors are for internal use, and they have a 25mm blade.
These can be either closed, like the decorative shutter, or open. They normally have a middle horizontal rail for extra stability, and sometimes have a solid panel in the bottom, instead of louvres.
Most locally, custom-made louvres are 36mm thick, but often imported variety are more like 19mm thick.
Adjustable Function
Adjustable shutters are manufactured differently depending on whether they are used for interior or exterior.
Interior shutters are normally fitted together using plastic pins holding the blades into the frames and holding the adjusting bars to the blades. These pins fit neatly into the timber and are perfect for interior. However, their fitting in the timber will not last if exposed to the exterior elements.
This type of shutter normally has a larger bulky blade, such as 70mm or 90mm wide and 12mm thick.
Some manufacturers offer to made these 'aerofoil' shaped, like a plane wing. This often helps with closing the shutter more tightly as the shape of the blade helps diminish the gap between the blades.
However, the flat blade with rounded edges is considered more modern looking.
For exterior adjustable shutters, a metal fixing and adjusting system is recommended. This is because stainless steel or aluminium can be made into small mechanisms that will handle the effects of weather, unlike timber. You can still have an exterior timber shutter, but the actual adjusting mechanisms need to be stainless or aluminium. This can be done in a variety of ways.